Our Top 50 unique sympathy gifts post gives you a chance to see inside our gift shop. You'll find ideas for unique and inexpensive gifts for friends and family. Our free website provides a huge selection of the most unique and thoughtful sympathy gifts. From stuffed animals and flower arrangements to paintings and jewelry, you are sure to find something that will help express your sympathy.
Filmstrip Custom Photo Art
Show off your photos in nostalgic style with this nostalgic art from Oregon-based Framebridge. Upload a photo, then add the date and text, which can be anything from a name to a caption. This art is printed on high-quality paper and ready to hang with two attached hanging hardware. Give this gift to someone who cherishes their photos and their memories.
Link: uncommongoods
Pearhead Gratitude Jar
If you want to give a unique sympathy gift that will be remembered for a long time, then consider giving your loved one or the person you are memorializing, a jar filled with special notes and stories and memories. A "Moments to Remember" jar is a great way for friends and family to remember and cherish all the happy moments they have with someone special. It's a pretty ceramic jar that comes with a cork top and includes 50 memory cards.
Bottle Opener Sympathy Gift
Consider this as a unique sympathy gift for a friend or family member who has lost a loved one. It's a wonderful way to commemorate a life well lived and to remember all the good times shared together. This unique wall-mounted bottle opener is a beautiful tribute and a useful home bar accent. It's made from solid walnut and maple wood
Link: urnsnw
Custom Engraved Memorial Tumbler
The best sympathy gift for the loss of a loved one is an engraved tumbler. As a personalized gift, it brings a little warmth to your grieving friend and also honors the life they shared. Choose from several styles and colors for your personalized engraved tumbler, etched with "In Loving Memory" plus name and dates.
Link: northwestgifts
Personalized Memorial Candle
For hundreds of years, people have used candles to light the way and pay tribute to someone special who has passed. This personalized candle is a wonderful way to honor your loved one or let someone know you're thinking of them at the loss of their loved one. These are customized with the person's name and date, and if you would like the background or heart to reflect a color that represents their loved one's favorite color, please feel free to do so.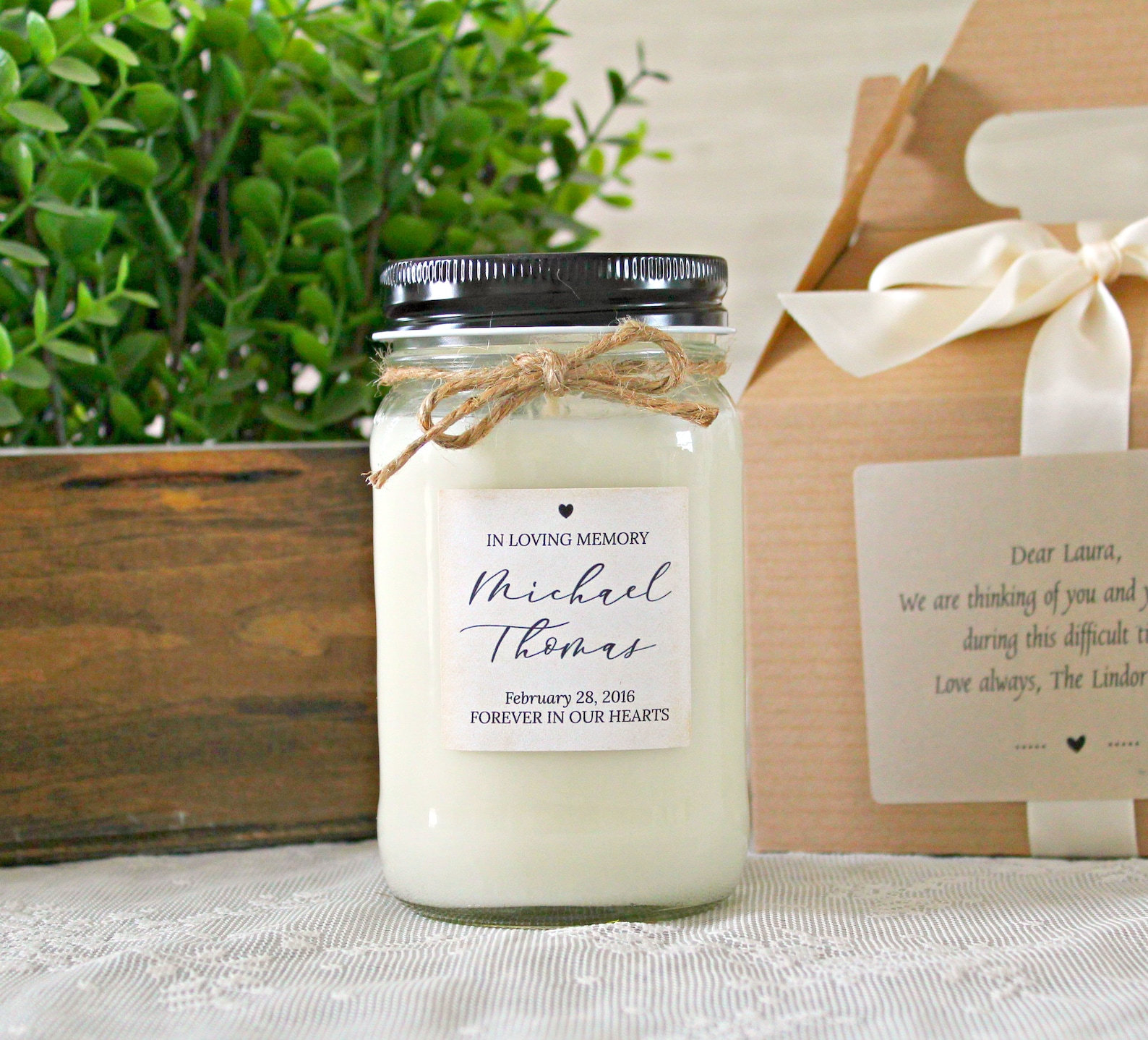 Link: etsy
Forget-Me-Not Necklace
A sweet and simple little sympathy gift for anyone in mourning. It has a double meaning that will be appreciated by the person you give it to. The symbolism behind this dainty flower is not lost on the maker of this necklace. They press a real forget-me-not into resin and then add a matching chain of your choice: gold-filled, rose gold-filled, or sterling silver.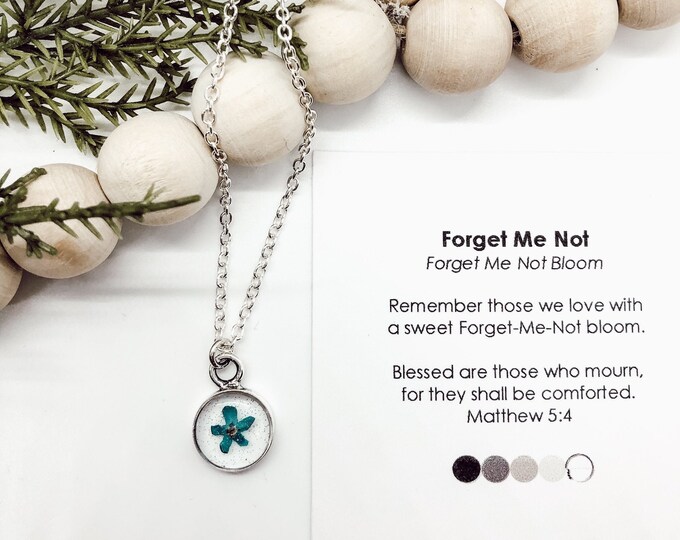 Link: etsy
Garden Memory Stone
Perhaps your friend or their loved one is/was an avid gardener. This will bring them comfort, and provide a lasting memento to remind them of your friendship. It's made from durable resin and designed to endure the outdoor elements for years. It's crafted from a durable resin material that's designed to emulate the appearance of real stone. Comes with a keyhole hanger that lets it act as a decorative wall plaque.
Pennies from Heaven Wood Piggy Bank Square Bank 
"Penny Bank," another handmade version of my "Pennies From Heaven" piggy bank. A great way to keep all those little reminders your angels send!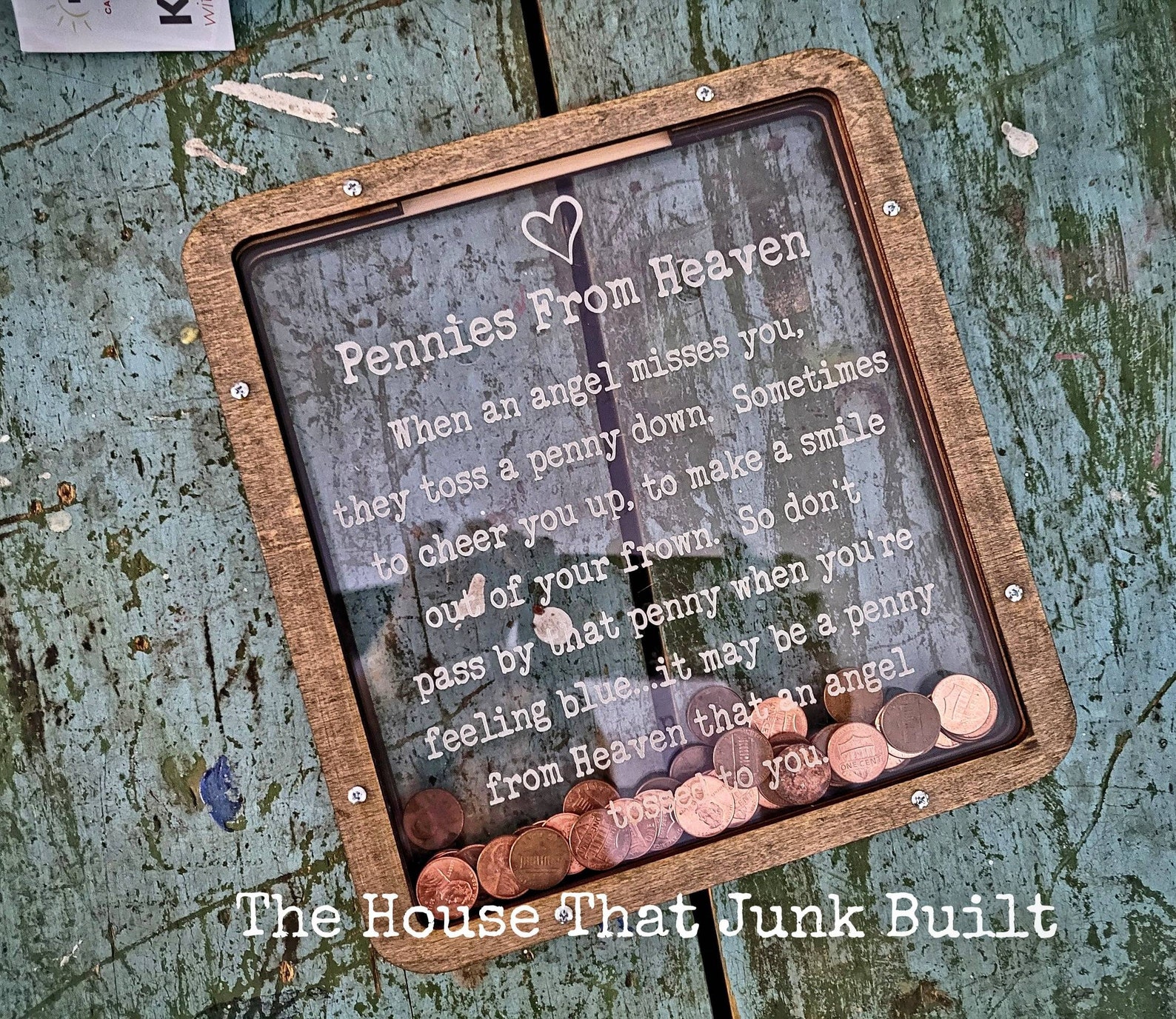 Link: etsy
Personalised Custom 2D Photo Glass Ball 
 Do you have a memory you wish to have engraved? Using our specialized engraving techniques, we will recreate the photo or image you provide us with into a beautiful, crystal globe. This makes an ideal gift for anyone who has just entered their 30's, 40's, or even older! The more high-quality the image, the better the results will be! Simply press the button on the base of the globe to see the color flashing inside!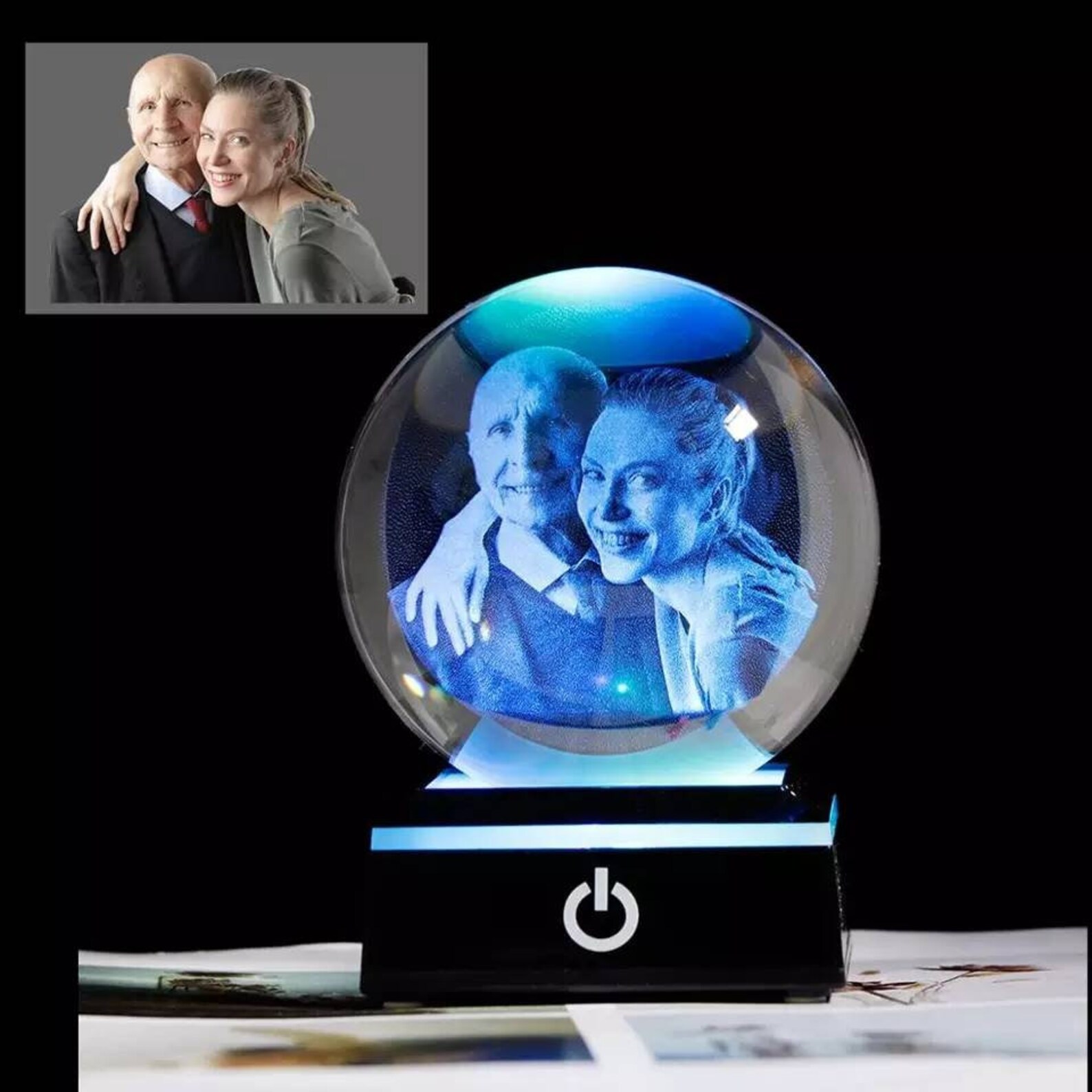 Link: etsy
Those We Love Don't Go Away, They Walk Beside Us Every Day bowl
This is a very special, one-of-a-kind ceramic bowl. It would make a beautiful gift for a friend or a sympathy gift for someone who has just lost his or her pet. It's completely handmade, fired in a kiln, glazed, and fired again. It weighs a ton! It is made of ceramic, glaze, clay.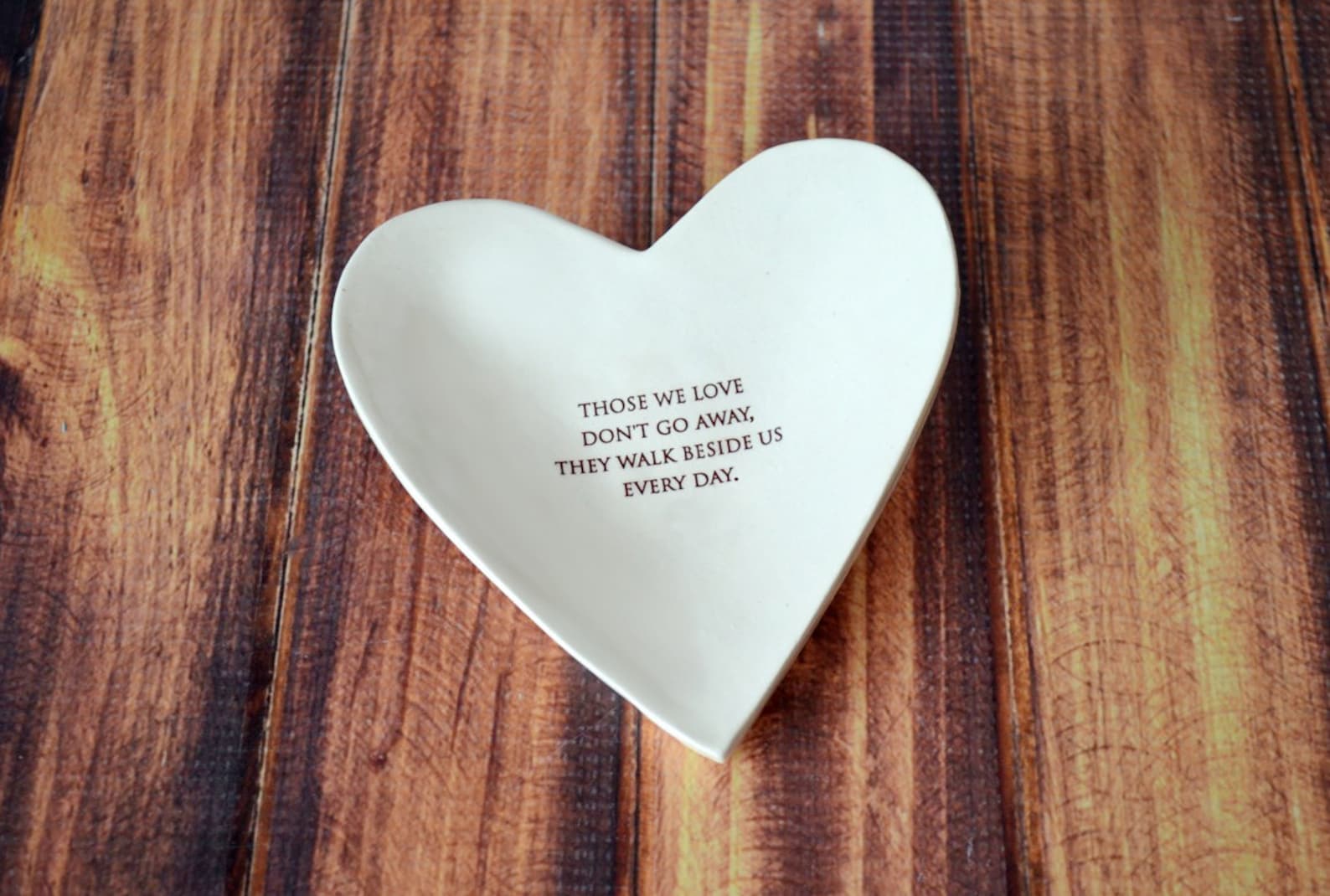 Link: etsy
Handmade Memory Bear
A handcrafted memory bear is a unique way to give a meaningful sympathy gift to a bereaved friend or family member. Each bear is created with the shirt or other clothing item of a deceased loved one, and it has the added benefit of being an heirloom – something that will be cherished for generations.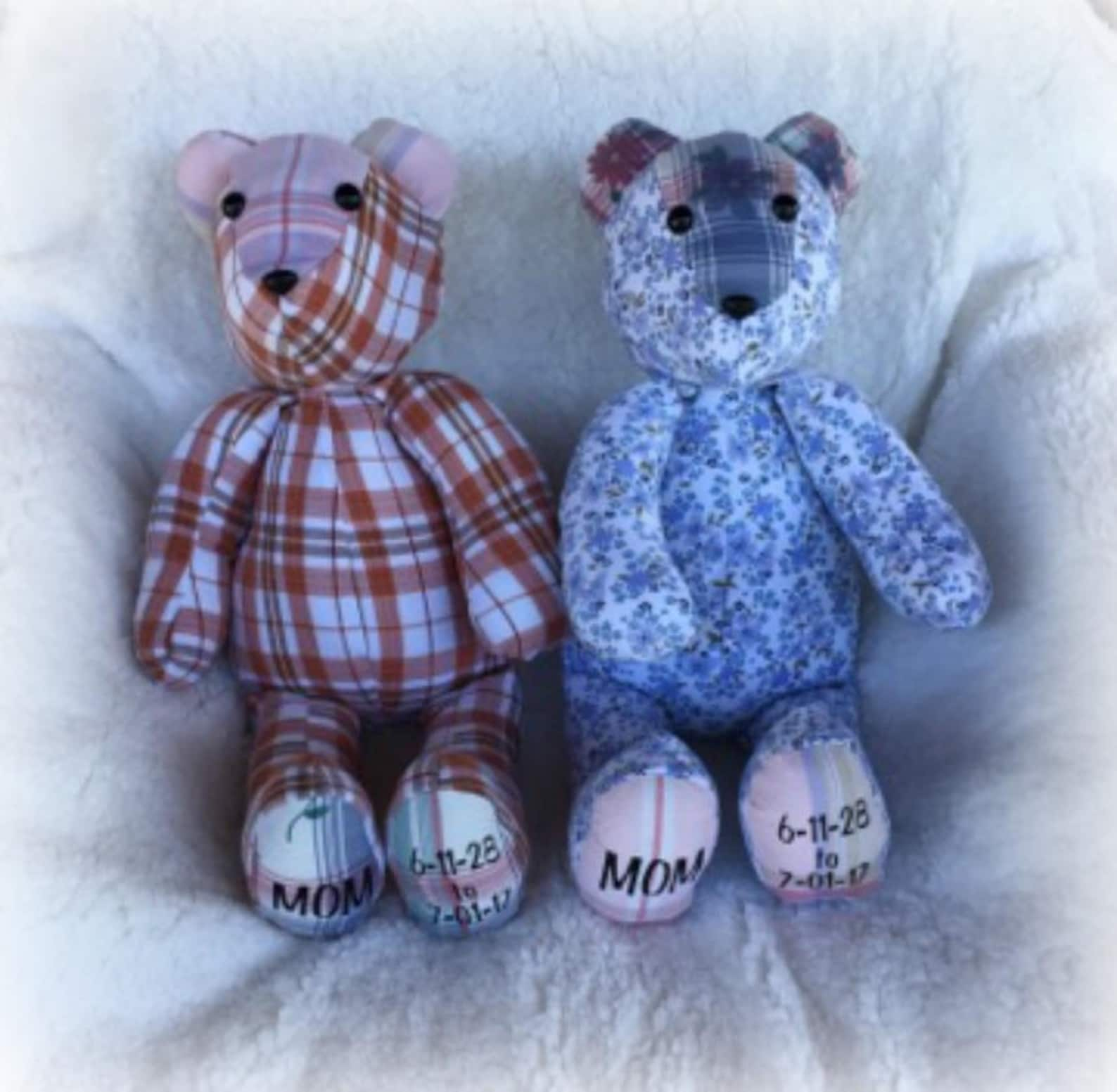 Link: etsy
Memory Tree Seedling
A living memorial. It will remind your loved one that life goes on. It is also eco-friendly. Very much alive, this little evergreen can be planted in their memory, tended to, and watched for years as it grows. It's a "living memorial" gift that keeps on giving. It is also attractive, top-quality bamboo packaging, and lasts a lifetime!
Blown Glass Teardrop Ornament
A delicate "angel" feather inside this stunning glass teardrop ornament reminds a person of the fragility of life and the preciousness of each moment. Hung in a window, sunlight will naturally bounce and flicker into the room, gently reminding the mourners that their loved one is still close in their hearts. After a death, a tender gift for a grieving heart, a glass teardrop with one white "angel" feather inside, and gentle words of comfort.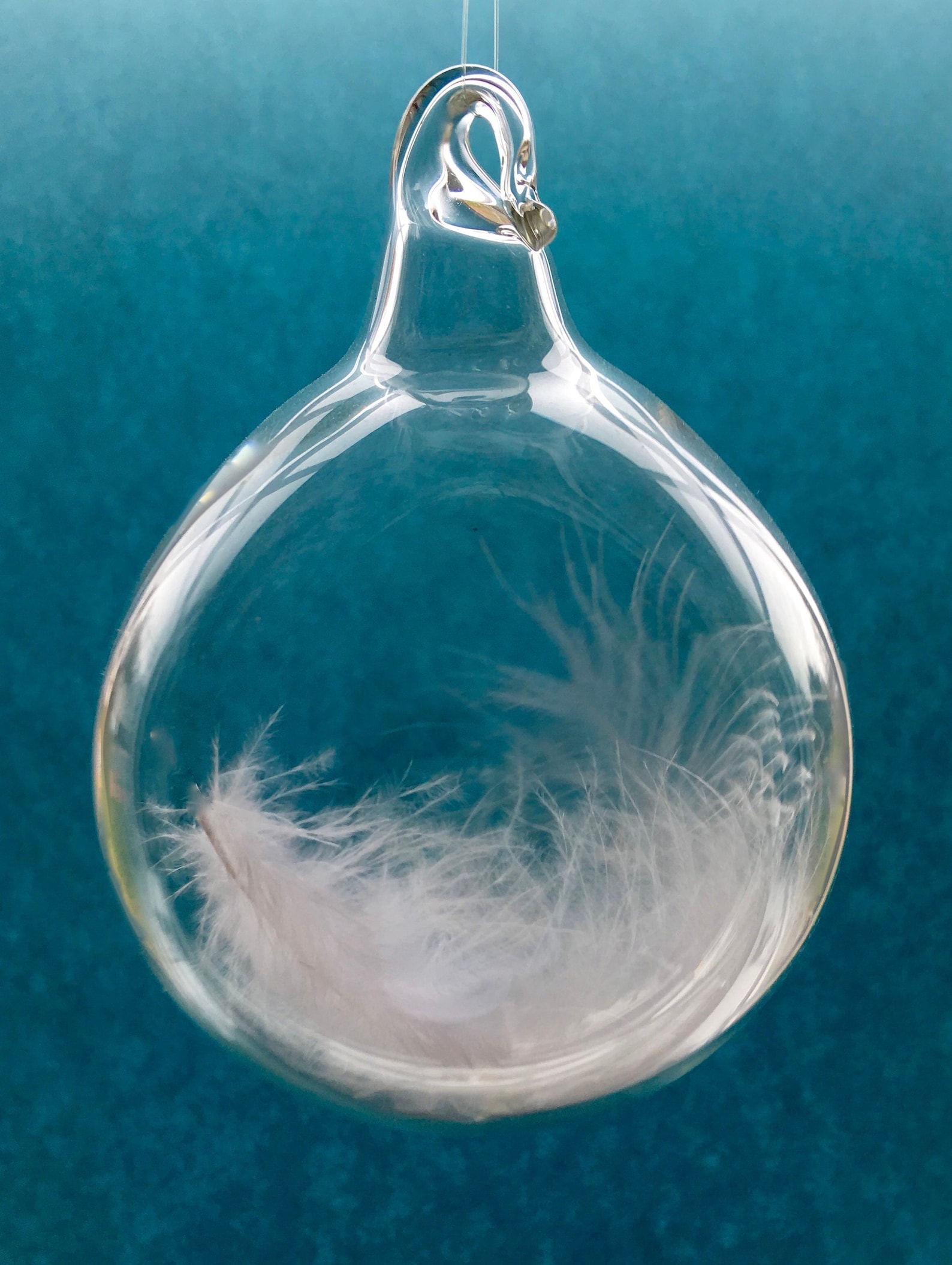 Link: etsy
Fingerprint Necklace
This silver necklace has a fingerprint engraved pendant, which can be personalized with an inscription of your choice (an actual fingerprint, and an actual handwriting, signature, or a personalized message in your chosen font.). It's a unique and very special gift.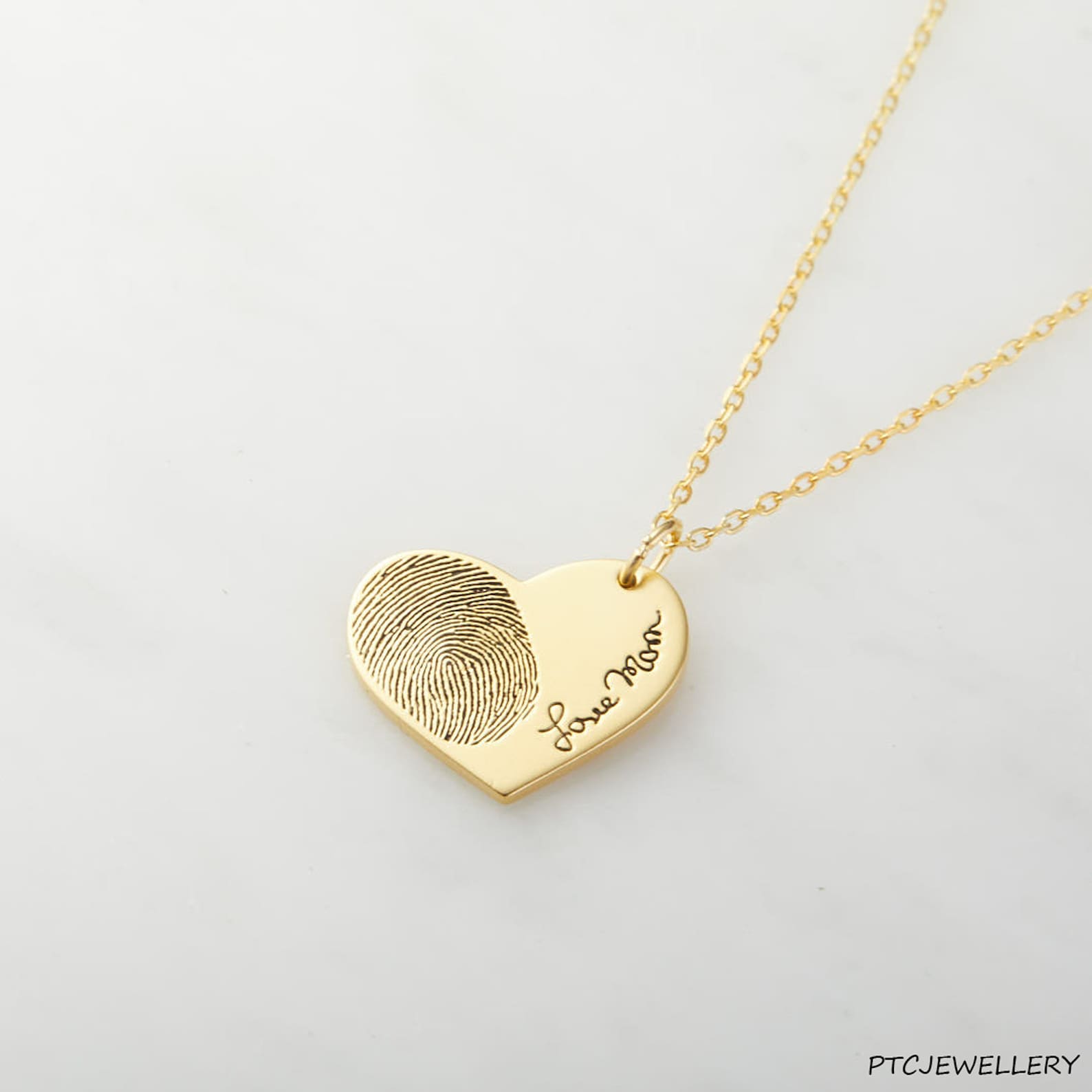 Link: etsy
Miscarriage Bracelet Jewelry 
This beautiful bracelet is handmade with a polished cubic zirconia remembrance bead. The bead is adjustable and is held in place by a unique material that grips the cord fibers. The material also allows the bead to glide smoothly over the cord for easy adjusting.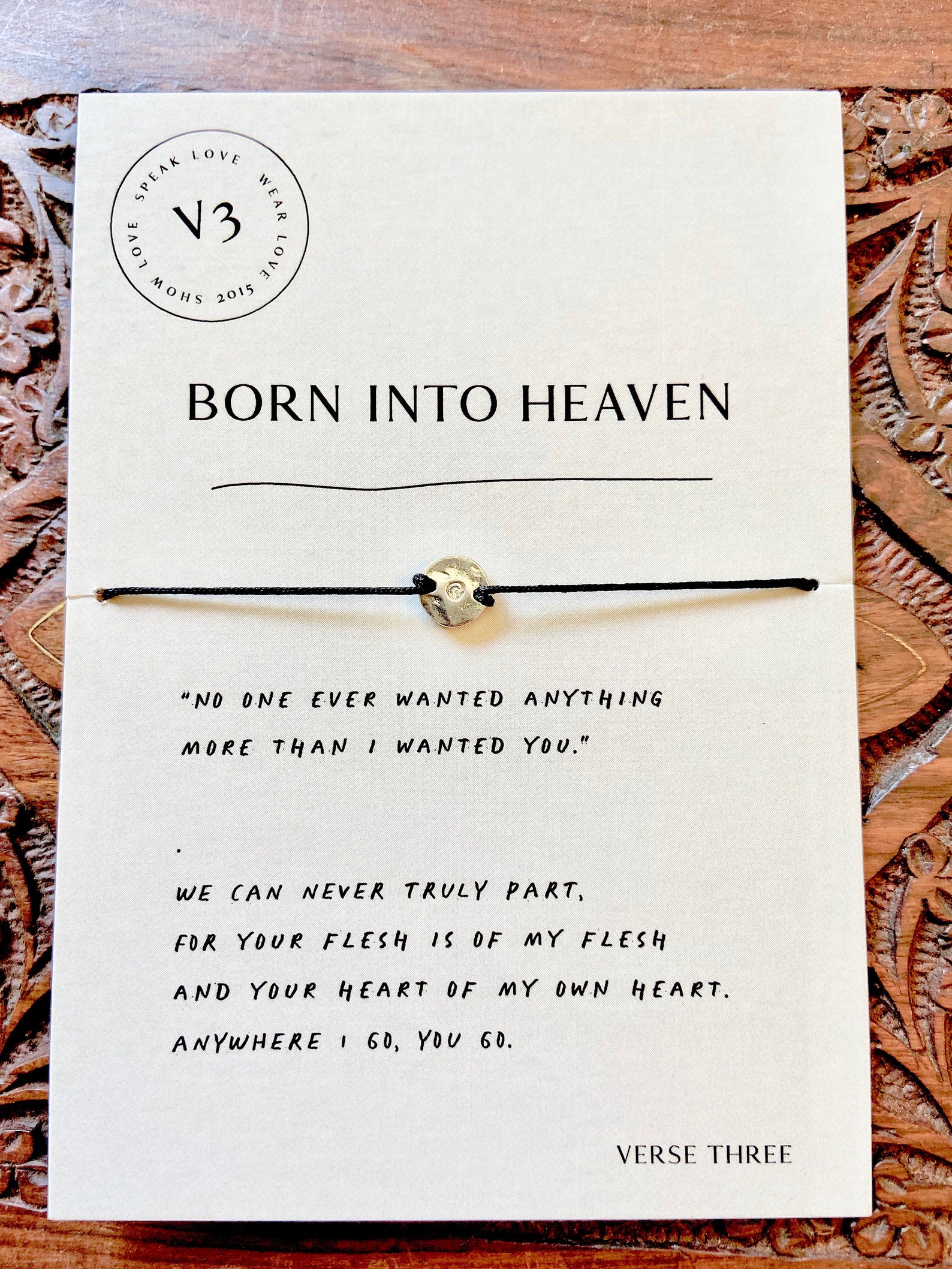 Link: etsy
Harry & David Sympathy Gift Box – Deluxe
Comfort food is essential for the soul. When someone we love dearly passes away, family and friends need nourishment and sustenance. This Sympathy Gift Box from Harry & David has everything you need to help everyone in your life feel better, including fruit, cheese, crackers, and nuts. The box includes both sweet and savory treats and a sympathy card.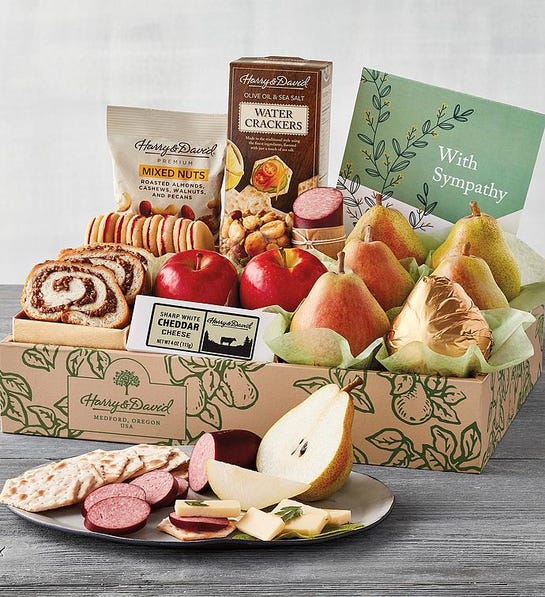 Link: harryanddavid
The Bright Hour: A Memoir of Living and Dying
If you've got a friend who's recently lost someone close to them, they should read this book. It's called "The Bright Hour" because that's when Nina Riggs, a great-great-great-granddaughter of Ralph Waldo Emerson and a poet herself, deals with her terminal breast cancer. A must-read for anyone who has been blessed, or who is blessed, with a loving and supportive family.
1-800-Flowers 31 Days of Kind Notes for Sympathy and Book
The book Grief Counselor's Guide to Surviving the Loss of a Loved One offers wisdom on how to help someone who has lost a loved one. The gift book includes 31 daily notes and quotes, each designed to encourage and uplift. The book also includes longer passages of encouragement. You can add an 80-page additional book to the notes to give your recipient even more wisdom.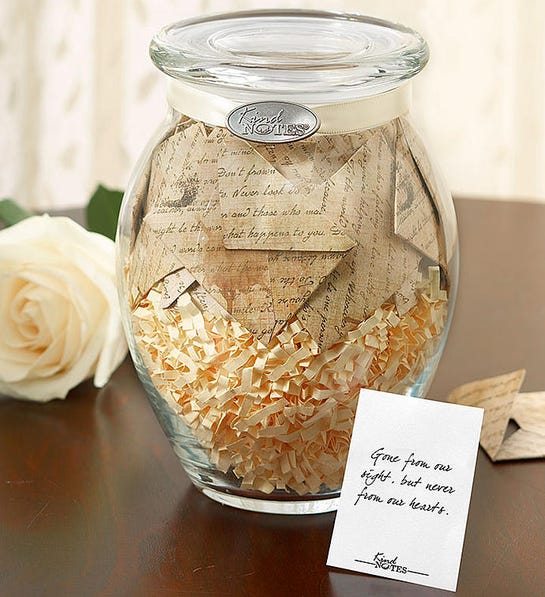 Link: 1800flowers
Oleinthewind Memorial Wind Chime
A grieving heart needs something beautiful, and even calming, to help it get through the day. These beautiful chimes will be marked with a constant remembrance of a loved one. During the strongest of storms or the softest breeze.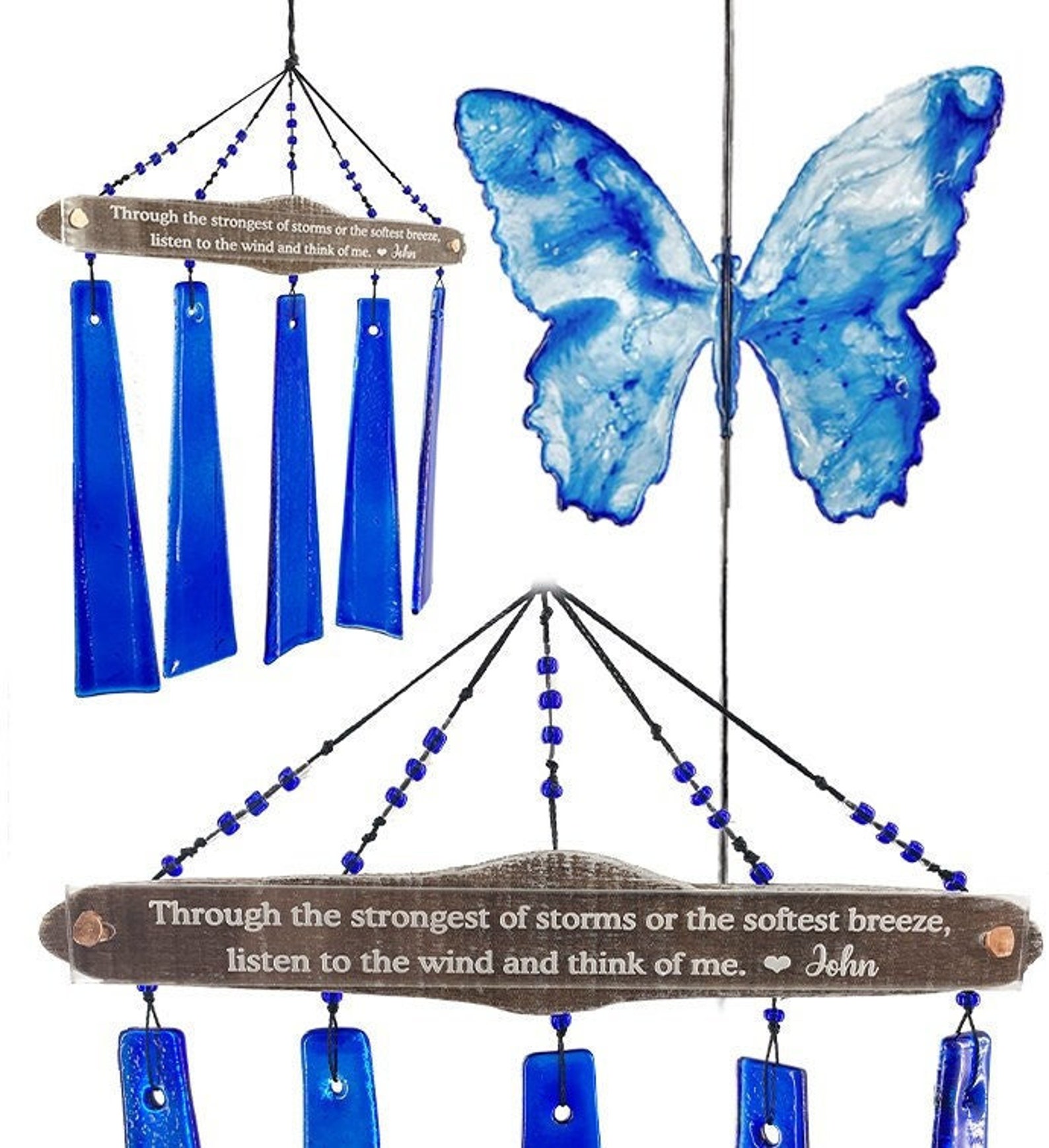 Link: etsy
Name a Star as Sympathy Gift
You can choose any name you want for your celestial star. In the next 24-hours, we will send you the document of your chosen star, with a description of why it was chosen, your personal text describing your star, and the location of your star on a celestial map. We also provide the iOS & Android app to find your star.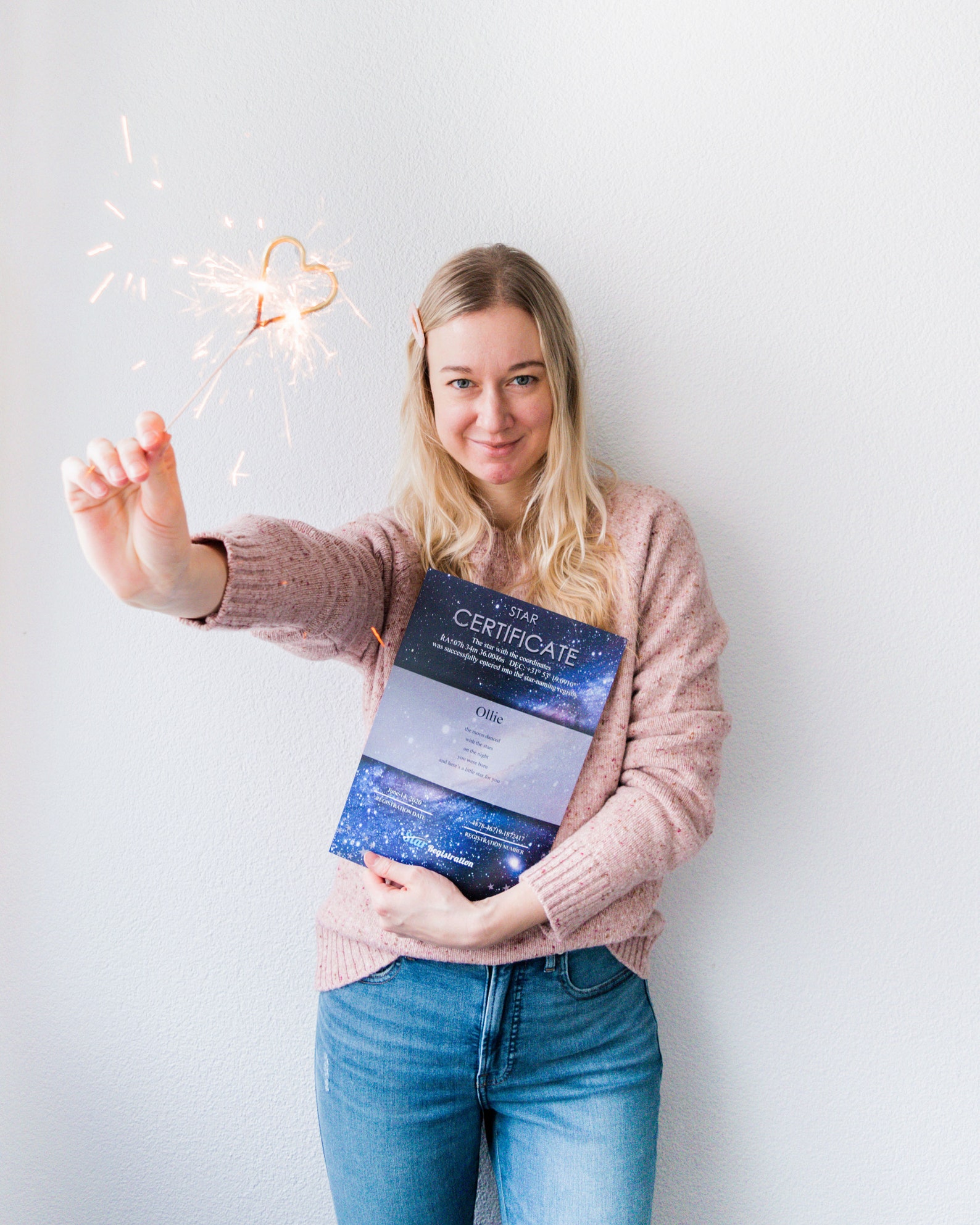 Link: etsy
Customs stained glass
Get your pet or someone you love or respect (or yourself!) a personalized stained glass panel. It could be a portrait in a variety of colors and sizes, your pet or an animal you love, your child, your spouse, or whoever else you choose. Also, it will include a unique frame made especially for you. The personalized product could be a full-size stained glass window, panel, suncatcher, glass mosaic, or whatever you have in mind.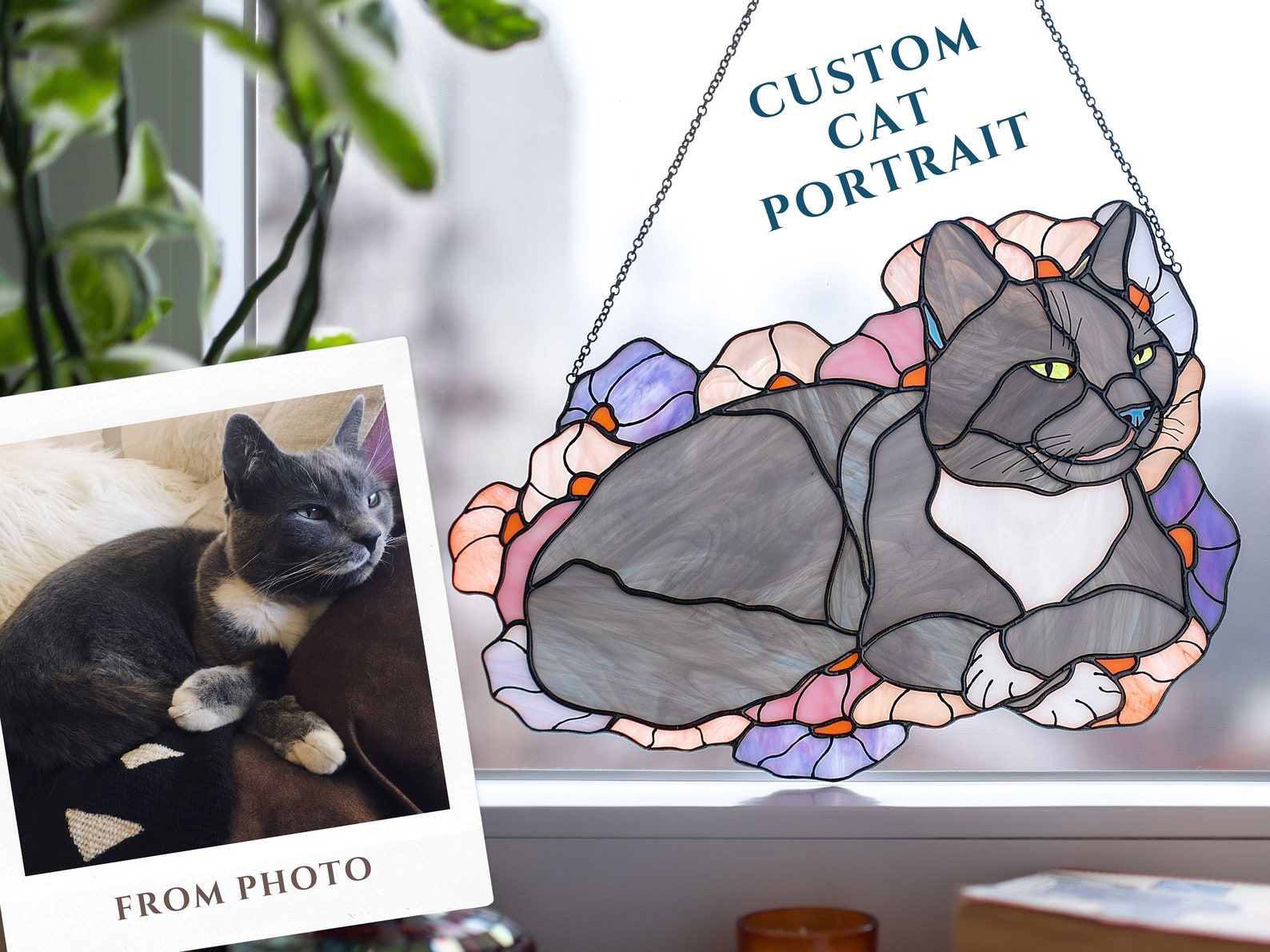 Link: etsy
Custom Photo Pendant
This custom photo pendant is a great way to honor and feel the presence of a loved one who has passed away. Wearing this necklace can really help ease the pain that comes with losing someone you love. It is a great way to honor that person or animal and it helps a grieving person to feel connected to the one they have lost.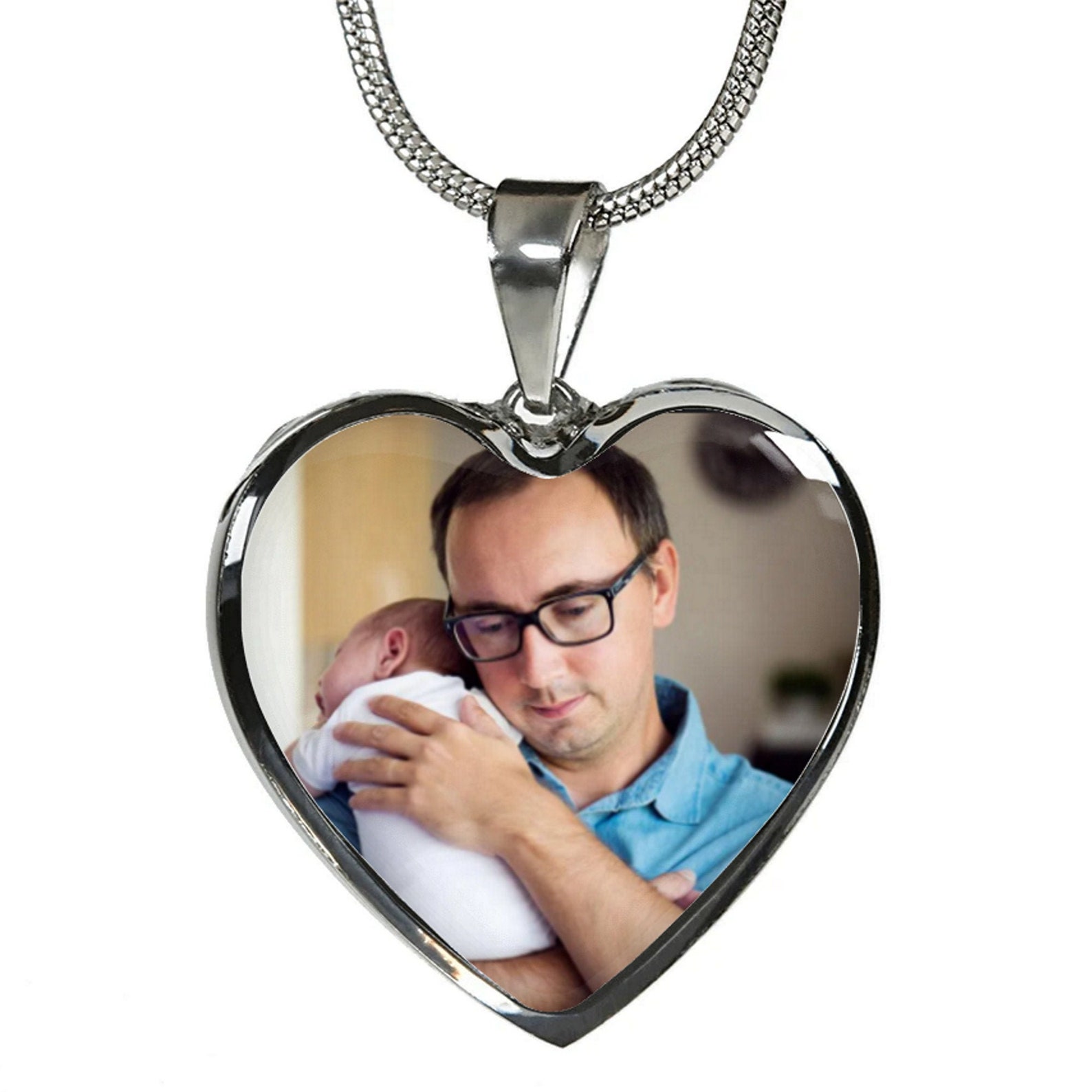 Link: etsy
Custom Handwriting Sign
This is a thoughtful gift to memorize someone's handwriting. It comes in 10 different sizes and there are 20 different wood stains to choose from.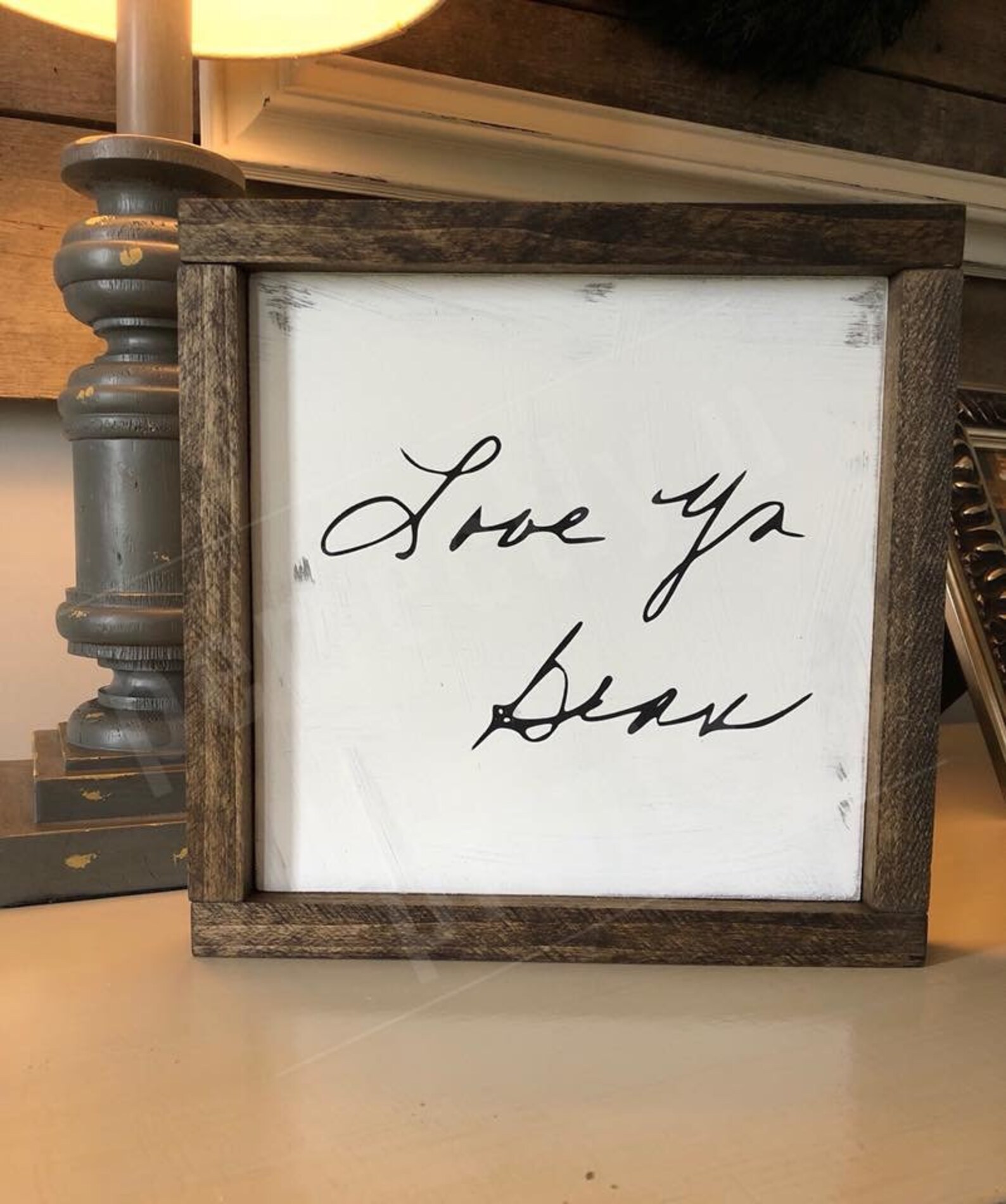 Link: etsy
Godiva Gold Gift Box
Gourmet chocolate is a treat that everyone loves. This box of assorted Godiva chocolates will provide a delicious sampling of the variety of gourmet chocolates made by the world-famous Godiva chocolatiers. A hallmark of excellence for over 80 years.
UrbanStems The Femme Arrangement
UrbanStems offers a variety of beautiful flowers that you can send a loved one or someone else to help cheer them up during a tough time. Their "Femme" arrangement is simple, but elegant, and makes a wonderful pick-me-up for promotions, pick-me-ups, and for building friendships. Yellow has the quality of both uplifting and illuminating, and it can bring a sense of hope and happiness.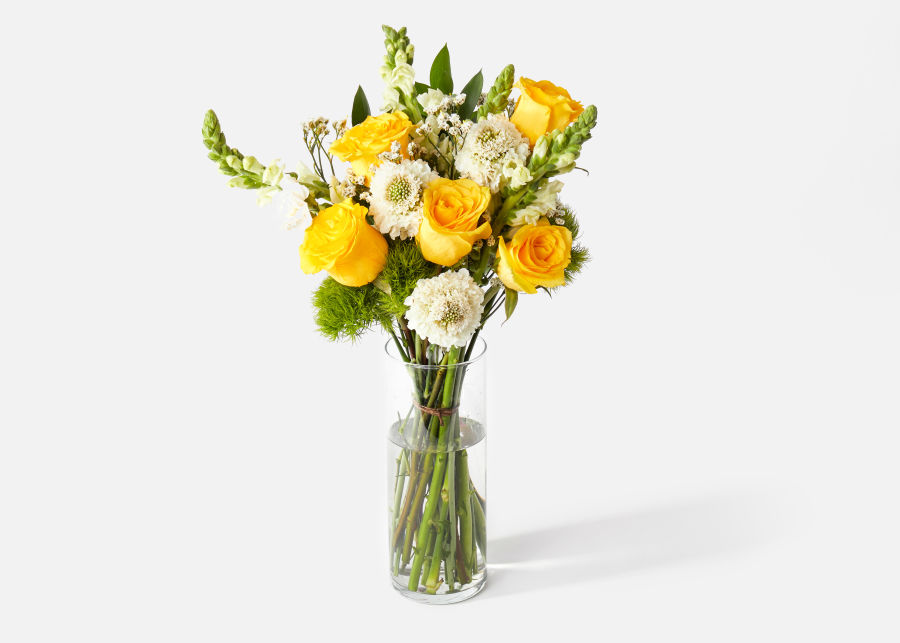 Link: urbanstems
Custom Embroidered Pet Portrait
This pet portrait was designed with thoughtfulness to honor the memory of your furry friend that has recently passed away. It's a one-of-a-kind work of art that they can frame or hang in their home. Honor your furry friend by creating a one-of-a-kind portrait that will be cherished for years to come. Every piece is handmade and made to order.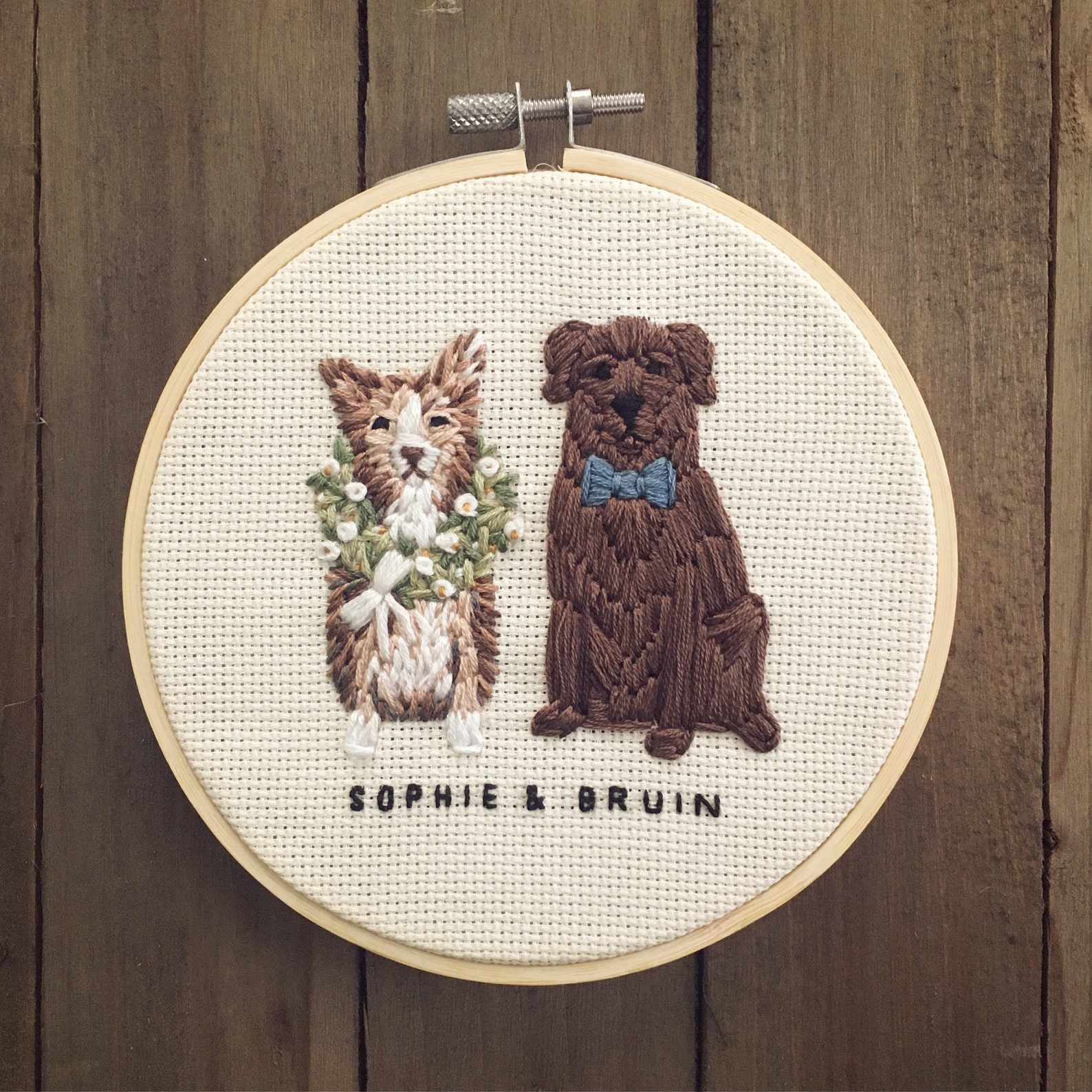 Link: etsy
Compassion Blanket
A Compassion Blanket is a comforting hug, it's a warm embrace, to let them know they are in your heart and prayers every day. It comforts them with its cozy, supportive comfort to give encouragement and love in difficult times. It's a beautiful, elegant gift to give as a true expression of your compassion and support.
Link:
Quietly: A Piano Album
Music has the power to speak where words fail. In "Quietly: A Piano Album," composer Jay Stoker will melt away their grieving friend's cares, if only for a little while. This peaceful, soothing instrumental gem will help them find that special place of serenity and reflection.
Hand-Drawn Charcoal Portrait for Loved Ones
Create a lasting keepsake that will bring comfort to the people you love during a difficult time by having a professional artist create a custom painting of them that you can frame and display with pride. Since it is a digital file, you can choose the frame and when exactly you want it to be delivered.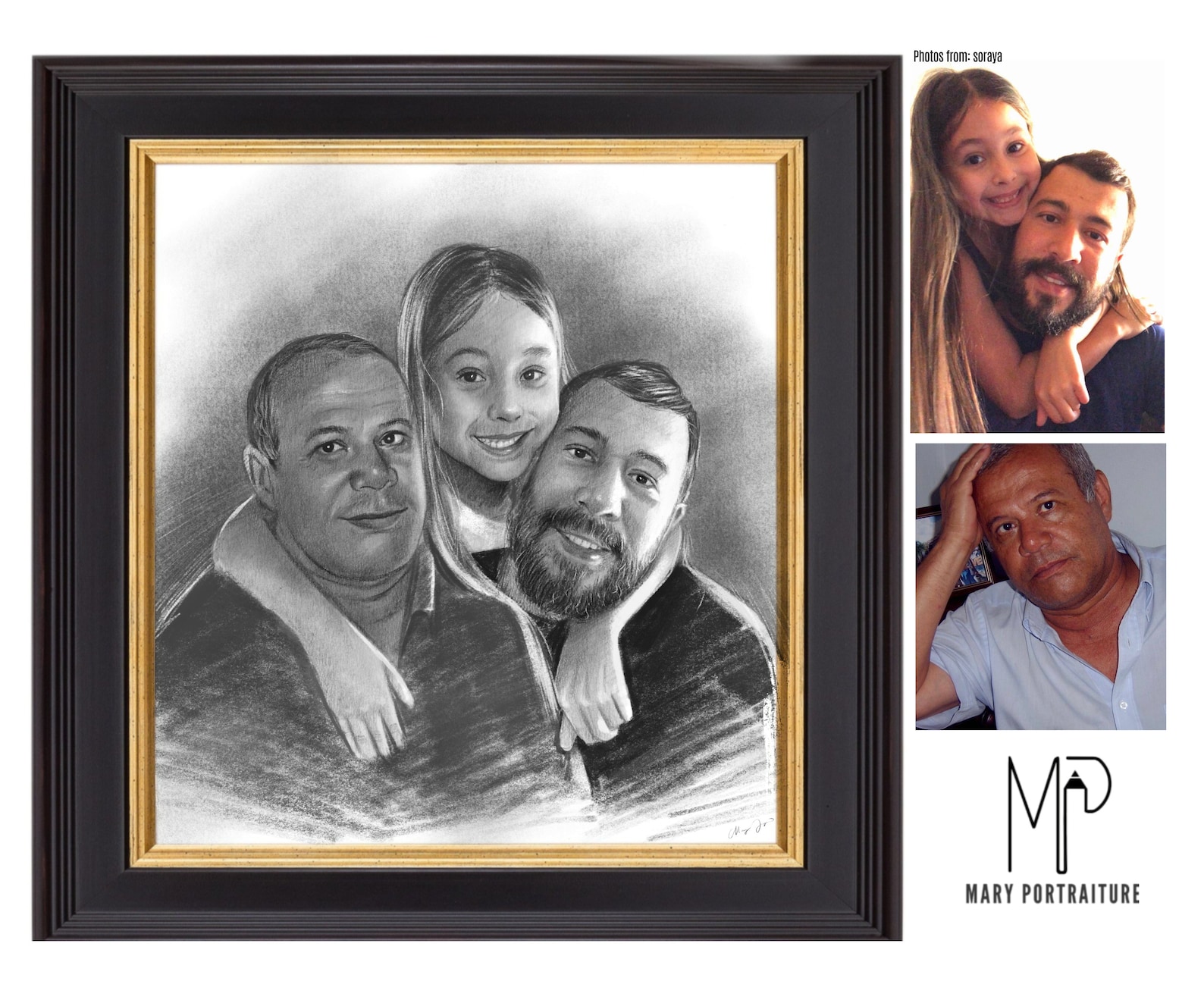 Link: etsy
Personalized Journal & Pen
After someone loses someone close to them, it's hard to express feelings. This personalized notebook will help them get through this hard time by giving them a place to write down all their thoughts in private.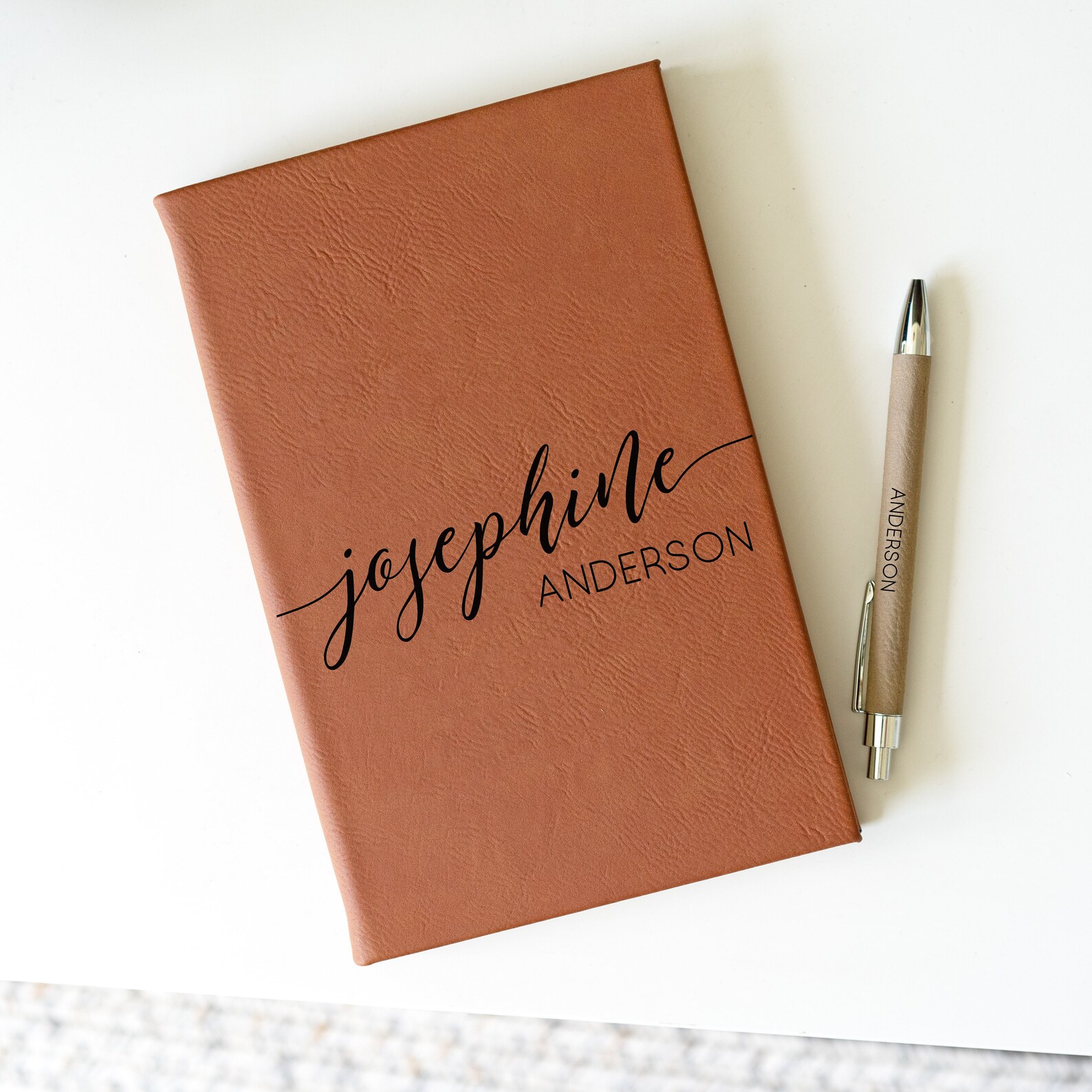 Link:  etsy
Letters to my dad in heaven
The idea of this book is to help you remember all the good stuff about your partner, your spouse, your child, your parent, and in general, all the people who are important in your life. The purpose of this journal is to keep your memory alive of the people you love and to fill your heart with all the good feelings you have for them. 
Celebration of Life Memorial Lantern with Flickering LED Candle
This is a very special keepsake designed to help you remember the celebration of your loved one's life. It will help them to remember their loved ones with love and light, and make an ideal keepsake in the loving memory of the person. It makes a thoughtful remembrance gift for any family member who has lost a loved one. It can also be used as a decoration for a celebration of life service or memorial service. It has a classic, timeless look that fits most any home decor style.
YOUNTASY Sympathy Wind Chimes
Losing a loved one is never easy. This thoughtful, heartfelt gift expresses your heartfelt sympathy with our sympathy wind chimes. The chimes offer hope, comfort, and healing for the loss of a loved one, and make it the perfect gift for a grieving friend or family member. The soft, soothing tones of the chimes create an atmosphere conducive to calming the mind, reducing tension, and uplifting the spirits of a grieving friend or family member with the loss of mother, father or husband, brother, sister, etc. The wind chime will become a treasured remembrance in loving memory, to help them remember all the precious moments spent together.
KEDRIAN Care Package Box
This is a great get-well gift, a sympathy gift for someone who has lost a loved one, or a gift to help someone who is sick or has a serious illness. It contains a blanket with a bright, cheery design that has inspiring words on it, an insulated tumbler, a scented candle, and some fun, fuzzy socks.
Top Shelf "In Loving Memory" Memory Jar
Fill the jar with memories of the dearly departed and know they will live on forever through he/her. This "In Loving Memory" jar kit comes with 180 wish tickets, a matching decorative lid, a pen, and a hanging plaque.
Memorial Gifts – 4 Hand Carved Stone Reminders for Each Passing Season
The most sincere and enduring condolence gesture is to create and keep a lasting memorial to the person who has died. A memorial keeps their memory alive and ensures they never truly are forgotten. These beautiful etched crystal hearts are a wonderful way to deliver this message. Each heart is 100% unique They are small enough to fit inside a pocket or purse, yet large enough to be noticed and appreciated by all. 
Sympathy Gift Basket
Condolences are expressed with soothing tea, delicious cookies, pistachio nuts, and a classic collection of favorite gifts delivered in a sympathy gift basket. The sympathy gift basket also comes with a filled-with-right-words sympathy gift card to help the family and friends of the deceased express their condolences.
Memorial Garden Stone
A memorial stone like this one would make a wonderful tribute for someone who has passed. It has a message etched into the top which says perhaps they are not stars in the sky, but rather openings where our loved ones shine down to let us know they are happy. And with its decorative border and star and floral design, it's an ideal way to remember someone who has passed.
Solar Angel Statue
Send a Condolence Gift that will become a lasting memorial to remember the person who has died, and help those who are left behind to heal. Our solar-lighted angel can serve as a keepsake, to help the family and friends remember the good times they shared with the person who has passed.
40.  The Gift of a Memory: A Keepsake to Commemorate the Loss of a Loved One
This is a wonderful book to give to someone who has experienced the loss of a loved one. It contains pages of comforting words and detailed artwork that brings the memories alive. A true "comfort gift" from the heart.
SIEASY Pressed Flower Pendant Necklace
This beautiful flower necklace is a thoughtful sympathy gift for anyone who has lost a loved one. It's made of high-quality stainless steel, the pendant is made of resin and dried natural flowers, and it's lead-, nickel- and cadmium-free.
Forever Roses
Forever roses are a great idea for friends and lovers who are far away. Your friend will be able to enjoy the flowers for a long while without having to worry about caring for them.

Pet Portrait Necklace
This is the perfect personalized gift for all the animal lovers on your list. It's a great keepsake that is certain to make its intended recipient smile.
Cat Angel Pet Memorial Grave Marker Tribute Statue
Pets have an almost magical way of lifting our spirits no matter what goes wrong in our lives. This special memorial statue will help soothe the soul of anyone who grieves the passing of a beloved pet. It makes a wonderful indoor monument to your loyal feline, a garden gravestone, or a lawn ornament.
Dog Memorial Cuff Bracelet
The perfect gift to honor your buddy by an engraved pet name. Surgery grade 316L stainless steel sturdy and durable will never fade, rust, stain, corrode, or turn skin green hypoallergenic 100% healthy for skin and nature. 
Actual Fingerprint Tear Drop Necklace
The most unique and everlasting personalized gift you can give your loved one is to turn one of the most distinguishing elements of your loved one into a dainty keepsake. It will last forever and remind your loved one of you whenever he or she looks at it.
Pawprint Keepsake Kit 
The perfect gift for any pet lover, this unique personalized canvas pet charm makes a wonderful keepsake that will be cherished for years to come. It's a great way to remember your pet – and a great way to start the healing process as well.
Custom Pet Pillow
This beautiful keepsake will be cherished for years to come. It's made of the highest quality material, which makes it very easy to clean. Also, the filling is cotton, which makes it extremely soft and comfortable. He/she can sleep with a pillow, just like holding him/her and there are five sizes to choose from.
Ornaments Angel Wings
This Christmas ornament will enhance the beauty of his/her Christmas tree or the decor of their home. It comes in a deluxe red velvet gift bag and is a thoughtful and unique way to remember the special someone who meant a lot to him/her. 
MIXJOY Little Heart Pocket Hug Token
This is a sweet little gift to give to family and friends who have someone special they care about during these difficult times. It's a cute little folded card with a short message and a small poem to remind them of your affection for them.
How to choose the perfect unique sympathy gifts?
For many people, choosing the right sympathy gifts is more difficult than actually expressing their feelings. After all, they have so many options to choose from, it can be overwhelming. But, choosing the right sympathy gifts for your loved ones doesn't have to be difficult if you understand. Gifts that show you care We know you want to give a meaningful and appropriate gift and we're here to help with that. There are a number of great sympathy gifts to give in honor of your loved one. We'll help you find the perfect sympathy gift for any situation listed above. Good sympathy gifts are ones that show you care. Sympathy gifts are those which show you care. Anything you give will demonstrate that you have made an effort. Sympathy gifts don't need to be expensive; in fact, they should not be. Flowers are always appreciated but, so is a thoughtful personal item, such as an album of photos, a book of poems, a CD of music, or whatever else the person you are helping may find useful in a difficult time. That will be a huge comfort to the bereaved.
FAQs
What is an appropriate sympathy gift?
Sympathy gifts do not need to be expensive. If you give a practical item, such as a box of tissues, a bottle of water, a packet of biscuits, then that will be a huge comfort to the bereaved and will be appreciated by everyone.
What can you send for sympathy?
The listed above is some advice to give the best sympathy gift. But, we also realize sometimes you don't have much choice in the matter… because… you don't know what the person likes or what would make them happy. In that case, we've put together a list of some really great "safe" ideas for you to choose from.
Can you give flowers to someone who lost a loved one?
It's always appropriate to send a green or flowering plant to someone who has just experienced loss. Sometimes funeral homes will deliver plants or floral arrangements to the home if specified. Otherwise, the funeral director will simply notify the family members that they may take the plants with them after the service.
What flower symbolizes the death of a loved one?
Mums, or chrysanthemums, are associated with several different cultural meanings surrounding the death of a loved one.
CONCLUSION 
 One of the hardest things for a person who has lost someone close to them is to come to terms with their loss. The death of a loved one is never easy to accept. Even when there is no longer any chance of bringing that person back to life, it is still difficult to move on and accept that they are truly gone forever. The listed above listed some useful gifts to soothe their sorrow that you may want to try.